Rotary kiln
Photo 1: rotary kiln incinerator, boiler and a single stage (dry) flue gas treatment
Photo 2: Ash chamber
Photo 3: Rotary kiln
Photo 4: Post combustion chamber
Photo 5: Bypass chimney or emergency chimney
Photo 6: Quench
Photo 7: Dosing units
Photo 8: Reaction chamber
Photo 9: bag house filter
Photo 10: ID fan
Photo 11: Wet scrubber
Photo 12: Chimney with CEMS platform 
Rotary kiln incinerator
The rotary kiln incinerator is manufactured with a rotating combustion chamber that keeps waste moving, thereby allowing it to vaporize for easier burning. Types of waste treated in a rotary kiln incinerator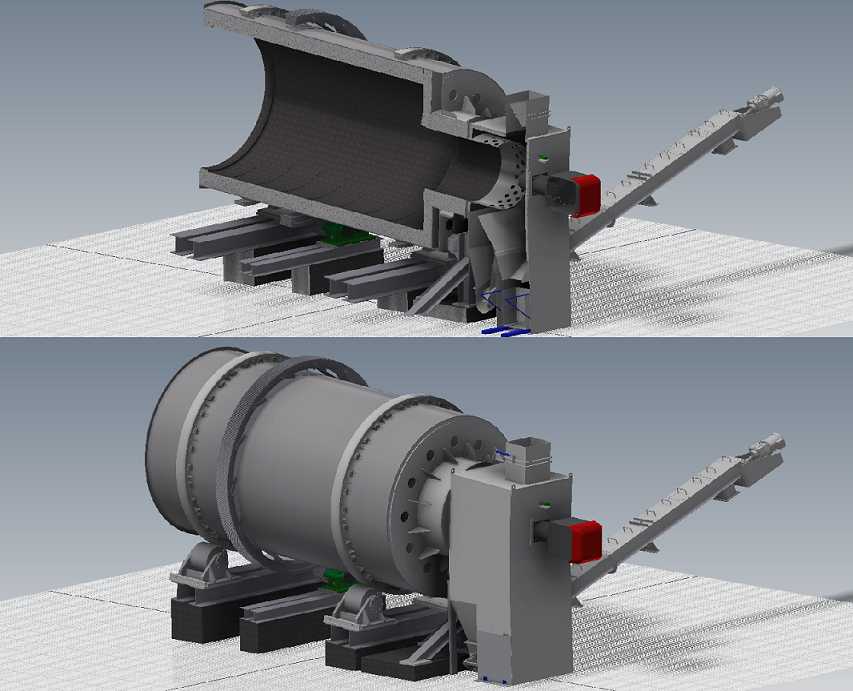 Photo: a rotary kiln and a section view
Hazardous waste and PCB waste
Medical, clinical or hospital waste like "Red bag waste", infectious waste, surgical waste, injection needles, rubber gloves and tubing, tissues and bandage, drop-bags, medical remains, scalpels, infectious and pathological waste, blood plasma remains, cloths, laboratory waste, medicine remains, glass pipette, plastic samples, steel tools, etc.
Chemical waste and pesticides
Sludge waste, cattle waste, industrial waste, petro-chemical waste, oil waste, etc.
The complete technical line of the rotary kiln incinerator exist out of 3 main parts:
The combustion part
The energy recovery part
The flue gas treatment part
1. the combustion part
The picture "photo 1" gives a schematic overvieuw of the system manufactured to treat the waste in a rotating drum, we use a counter current rotary kiln. There are 2 different types of rotary kiln, co-current rotary kilns and counter current rotary kilns. Read here more about the different types of rotary kiln.

Photo: a rotary kiln incinerator and an inside view
Some rotary kiln characteristics
Rotate wastes in rotary kiln, enabling thorough mixing with air
Operating temperature from 800 - 1400 degree Celcius
Has great resistance to high temperatures
Can handle liquid, sludge, solid, gas in large quantities
Can handle batch modes like barrels and allows more flexibility than continious modes
Capacity of different rotary kilns
* Medical waste estimated at 24 MJ/kg (5735 kCal/kg)
** Industrial waste estimated at 16 MJ/kg (3823 kCal/kg)
*** Oil and PVC waste estimated at 35 MJ/kg (8363 kCal/kg)
Capacity of the rotary kiln incinerator
Type
Thermal capacity
Medical waste *
Industrial waste **
Oil and PVC waste ***
KILN-0,5
500.000 Kcal/h
(582 kW)
87 kg/h
 130 kg/h
 60 kg/h
KILN-1,25
1.250.000 Kcal/h
(1.164 kW)
218 kg/h
 326 kg/h
 150 kg/h
KILN-2,5
2.500.000 Kcal/h
(2.910 kW)
436 kg/h
 654 kg/h
 300 kg/h
KILN-3,75
3.750.000 Kcal/h
(4.365 kW)
654 kg/h
 981 kg/h
 450 kg/h
KILN-5
5.000.000 Kcal/h
(5.820 kW)
872 kg/h
 1308 kg/h
 600 kg/h
KILN-7,5
7.500.000 Kcal/h
(8.730 kW)
1308 kg/h
 1962 kg/h
 900 kg/h
KILN-9
9.000.000 Kcal/h
(10.477 kw)
1569 kg/h
 2354 kg/h
 1076 kg/h
KILN-11
11.000.000 Kcal/h
(12.800 kW)
1918 kg/h
 2877 kg/h
 1315 kg/h
KILN-20
20.000.000 Kcal/h
(23.273 kW)
3487 kg/h
 5231 kg/h
 2391 kg/h
Note: The rotary kiln incinerator for medical and hazardous waste is operating 24h per day and 7500 h/year.
2. Energy recover system: always a personal approach
Energy recovery is always an individual design, and very attractive is electricity. But electricity is also the most complicated and less economical profitable for small installations ( the min. capacity is 3 ton/h of waste). If heat can be used in another process on site, for example in a dryer. It has to be taken into consideration that a connection between incinerator and the production process (dryer) can be the most efficient solution. The disadvantage can be if there is a production stop of the incinerator, the process (dryer) can not always stop at the same time.
For example :
We produce steam as energy recovery, also for electricity production. The post combustion is strictly vertical and the boiler also has a vertical design for evacuation of dust. Our design is made for continuous operation of a steam boiler. The next drawing gives a possible set up of the installation. This is our set-up, created by people with operation experience with incinerators, and it results in this lay-out.

Photo: Inside view of a steam boiler with super heater and water walls
Read more about the correct choose of the energy recovery system for an incinerator.
3. Flue gas treatment part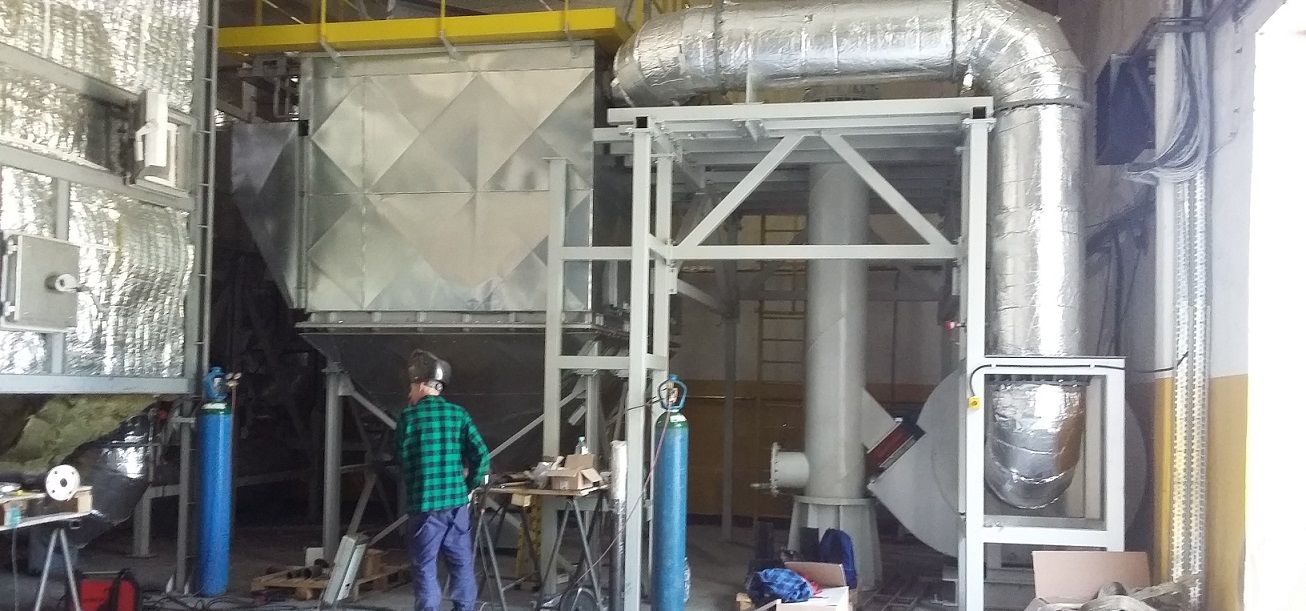 Photo: an example of a dry flue gas treatment system (Size: kiln-1,25 = +/-300 kg/h waste incineration)
Depending on the amount of Chlorine, S, N or other chemicals in the waste stream there is a wet or/and dry scrubbing system available for the flue gas treatment. Flue gas treatment systems are standard systems, and normal chemical reaction. So, for correct flue gas treatment we need to take care for:
Feed system and inlet panel, chemicals can not create to much concentrated piek in the feeding of the waste
Rotary kiln combustion chamber, with drive motor and gear box, to avoid piek in concentration we need the correct software
Secondary combustion chamber, also called post combustion chamber, with support burner to have 1200 degrees C and a residence time of min. 2 sec. for complete combustion, important for CO and dioxins and furans.
Energy recuperation system, heat boiler or quench tower for cooling can not create dioxins "de novo"
Dosation units for active carbon and Sodium-Bi-Carbonate to the flue gas in the dry scrubbing system
HCl, SO2 scrubbers, ventury scrubber and demister in the wet scrubbing system 
Dry scubber: bag house with teflon sleeves and residue extraction system. Also called a dust filter. Used for particle dust, dioxines and furans removal
Continious emission monitoring system, all instrumentation and control for optimalisation of operational costs (mainly consumables of the incinerator plant)
control panels with programmad PLC to control the installation (also by internet).
Medical and hazardous waste incineration related links and download files